Gadget
realme Buds Air 2 : Harga Murah, Tampilan Mewah, Kualitas Wah!!
True wireless earphones (TWS) dalam perjalannya, dapat dikatakan menjadi aksesoris handphone yang paling populer saat ini. Begitu populernya aksesoris ini, tidak heran hampir semua vendor handphone ikut merilis TWS.
Menariknya, banyak vendor yang serius dalam mengembangkan TWS andalannya, salah satu diantaranya adalah realme. Tidak sekedar mengikuti tren yang ada, TWS yang di kembangkan oleh realme, memang memiliki kualitas yang cukup mumpuni di kelasnya.
Keseriusan realme di dalam mengembangkan TWS selaras dengan strategi 1+4+N. Realme tidak hanya serius memproduksi HP, tetapi juga telah melebarkan bisnisnya ke arah produk AIoT. Perangkat TWS keluaran realme Buds Air 2, menjadi bukti keseriusan realme berkompetisi di ranah AIoT.
Desain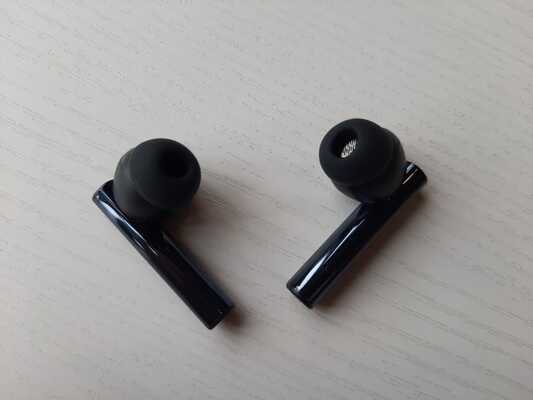 Diluncurkan sebagai penerus realme Buds Air generasi sebelumnya, realme Buds Air 2 cukup menggoda dengan fitur yang lebih up to date. Perubahan itu pun dapat di rasakan saat mengeksplor desain pada realme Buds Air 2.
Berbeda dengan Buds Air sebelumnya yang didesain seperti AirPods, realme Buds Air 2 menganut desain in-ear monitoring alias IEM. Konsep desain yang dirancang berdasarkan bentuk kanal telinga akan sangat memanjakan penggunanya.
Perangkat ini juga ditenggarai terasa begitu pas di telinga, mudah digunakan, dan yang terpenting TWS ini nyaman dipakai seharian.
Selain desain, yang membuat realme Buds Air 2 nyaman digunakan adalah dimensi rancang bangunnya. Berat realme Buds Air 2 hanya 4,1 gram yang artinya lebih ringan dari selembar kertas ukuran A4.
Secara umum realme Buds Air 2 memiliki tampilan yang sangat kekinian serta begitu fashionable. Hal ini sesuai dengan passion anak muda masa kini yang menginginkan earbuds untuk melengkapi penampilan mereka.
Untuk menunjang gaya street style, realme Buds Air 2 juga mengadopsi desain lapisan dua warna, yaitu hitam & biru dan silver & putih yang begitu menarik perhatian.
Fitur unggulan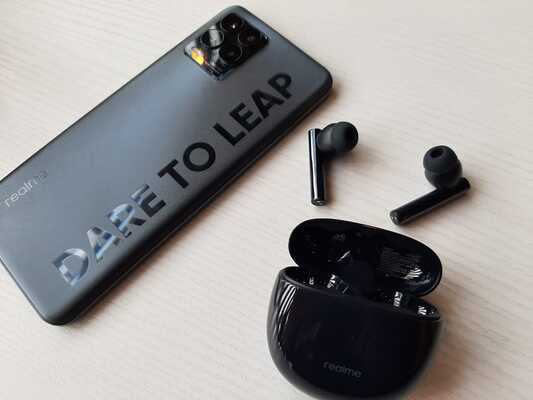 realme Buds Air 2 telah mendukung IPX5 water resistant, atau tahan air terhadap cipratan, hujan, atau keringat pada penggunaan sehari-hari, hal ini tentu akan memberi rasa aman, bagi pengguna yang terbiasa melakukan aktivitas outdoor dengan ditemani realme Buds Air 2.
realme Buds Air 2 juga mendukung Active Noise Cancellation (ANC), sebuah fungsi yang umumnya terdapat di earbuds maupun headphones flagship.
Keunggulan lain yang ditawarkan realme, yakni Mikrofon ganda yang bisa meredam suara bising. Dengan dukungan ANC hingga 25dB, TWS ini dapat memonitor kebisingan melalui mikrofon penerima, kemudian mengirim suara anti-bising untuk menghilangkannya, sehingga pengguna bisa menikmati musik tanpa terganggu.
realme Buds Air 2 juga dilengkapi dengan teknologi "Transparency Mode", berkat Mode ini pengguna dapat tetap berbicara dengan orang lain tanpa melepas realme Buds Air 2.
Kemudian realme juga menggunakan sebuah chip baru berlabel R2. Chip tersebut dibuat khusus hanya untuk Buds Air 2. Dibanding dengan generasi sebelumnya, chip baru ini memiliki efisiensi daya hingga 80%, serta dapat mengurangi delay hingga 35%. Efek chip baru ini juga terasa saat digunakan untuk bermaim game.
Audio
Ketika mengembangkan perangkat audio sebuah vendor kerap berkolaborasi langsung dengan musisi. Hal inilah yang juga dilakukan oleh realme. Guna mendapat kualitas audio yang mumpuni, dalam mengembangkan Buds Air 2, realme menggandeng The Chainsmokers yang dikenal sebagai musisi EDM level internasional.
Untuk meningkatkan kualitas suara dan pengalaman, realme dan The Chainsmokers mengembangkan sebuah diafragma karbon yang biasanya hanya ditemukan di earbuds atau headphone kelas flagship dengan harga 2 juta hingga 20 juta rupiah.
Tidak hanya itu, realme juga bekerjasama dengan The Chainsmokers dalam meluncurkan Bass Boost+, solusi peningkatan bass mereka yang terbaru. Fitur ini dapat memanfaatkan kekuatan foil dinamis serta diafragma DLC yang besar sehingga dapat memberikan pengalaman bass seperti mendengarkan musik secara langsung (live).
Baterai
Dengan dukungan chip realme R2 membuat TWS ini mampu menggendong baterai kapasitas besar dengan komsumsi daya lebih irit sehingga realme Buds Air 2 dapat digunakan hingga total 25 jam penggunaan.
Dimana dengan satu kali pengisian daya, TWS dapat digunakan sampai 5 jam. Kapasitas baterai pada earbuds dan pod pengisian jika digabungkan telah meningkat dari sebelumnya 17 jam menjadi 25 jam.
Ini artinya, pengguna realme Buds Air 2 dapat mendengarkan musik seharian. Disamping itu realme Buds Air 2 juga sudah mendukung pengisian daya cepat. Hanya dalam 10 menit pengisian, realme Buds Air 2 dapat digunakan selama 120 menit.
Kesimpulan
Bagaimana totalitas realme dalam mengembangkan sebuah perangkat sangat terasa, termasuk TWS ini. Bahkan demi mendapatkan hasil yang terbaik, selain menyematkan teknologi berkelas, realme juga berkolaborasi dengan  musisi sekelas The Chainsmokers.
Dan kerja keras realme dalam mengembangkan Buds Air 2 tidak sia-sia. Kualitas realme Buds Air 2 terbukti memang jempolan. Menariknya dengan semua keunggulan yang ada, realme buds Air 2 diposisikan sebagai TWS dengan Active Noise Cancellation yang direkomendasikan dengan Harga Di Bawah 600K. Artinya semua kunggulan TWS kelas flagship yang mendukung realme buds Air 2, bisa didapat dengan harga yang ramah di kantong.